Media
The ACCURATE center has had tremendous visibility in the media. Our co-PIs have been quoted on the front page of the New York Times, the Washington Post, the USA Today, on CNN, CSPAN, HBO, NPR, Time Magazine, Newsweek and in virtually every major media outlet. We have been the guests on the Diane Rehm Show, The Kojo Nnamdi Show, the Marc Steiner Show, and dozens of other radio programs around the country and the world. We have also served as major figures in several documentary films about electronic voting and security.
ACCURATE co-PIs have given talks, including several keynote addresses, about electronic voting to the ACLU, the League of Woman Voters, and at many other organizations' events. The work of the ACCURATE co-PIs has raised public awareness to the point where in the past few years, several states have passed laws requiring paper records of votes. Many other states are considering similar legislation, as is the federal government.
Here are some specific activities of ACCURATE participants in the media.
Who: David Wagner (UC Berkeley), ACCURATE PI
What: Interview, by Miles O'Brien on PBS Newshour
Date: February 16, 2012
Video: http://www.pbs.org/newshour/bb/politics/jan-june12/internetvoting_02-16.html
Summary: PBS NewsHour investigates the prospect of voting over the Internet. David Wagner discusses the security of Internet voting against hacking.

Who: Joseph Lorenzo Hall (Berkeley/Princeton), ACCURATE Postdoc
What: Surprisingly Free Podcast
Date: March 15, 2011
Link: http://surprisinglyfree.com/2011/03/15/joseph-hall/
Summary: Joseph Hall, a postdoctoral researcher at the UC Berkeley School of Information and a visiting postdoctoral fellow at the Princeton Center for Information Technology Policy, discusses e-voting. Hall explains the often muddled differences between electronic and internet voting, and talks about security concerns of each. He also talks about benefits and costs of different voting systems, limits to having meaningful recounts with digital voting systems, why internet voting can be a bad idea, and the future of voting.

Who: Avi Rubin (JHU), ACCURATE Director
What: Interview, by ComputerWorld's Todd R. Weiss
Date: August 18, 2008
Link: http://www.computerworld.com/s/article/323186/Avi_Rubin
Summary: In this interview, Avi Rubin talks about the inherent weakness of software, the critical need for audit trails and the 'perfect storm' of the 2000 election.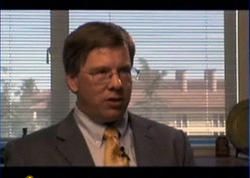 Who: David Dill (Stanford), ACCURATE PI
What: Interview, by Spencer Michaels on Jim Lehrer Newshour
Date: January 16, 2008
Video: http://www.pbs.org/newshour/bb/politics/jan-june08/ballot_01-16.html
Summary: David Dill discusses security issues with electronic voting machines in California in the wake of the California Secretary of State's Top-to-Bottom Review (TTBR). Dill was not part of the TTBR, but many other ACCURATE personnel were. Here he comments extensively on the implications of the TTBR findings.
The State of California is racing to fix unexpected problems with its voting machines before its Feb. 5 primary. NewsHour correspondent Spencer Michels reports from the Golden State on these recent ballot troubles.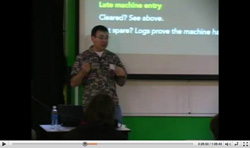 Speaker: Dan Wallach (Rice), ACCURATE Associate Director
Where: Google, Inc. (Google Tech Talk)
Date: December 11, 2007
Video: http://www.youtube.com/watch?v=tEI9Wn_hPWE
Summary: This talk begins with our experiences in real elections where we have observed these issues in the field, including a disputed primary election in Laredo, Texas as well as the recent Congressional election in Sarasota, Florida. These issues motivate a new design for a voting architecture we call "VoteBox" which networks the voting machines in a polling place, allowing for replicated, timeline-entangled logs which can survive malice and malfunction to provide a verifiable audit of election-day events. The talk concludes with a discussion of the findings from the California Secretary of State's "Top-to-Bottom" Review (TTBR) of voting systems, which we participated in.

Who: Avi Rubin (JHU), ACCURATE Director
What: Interview, Talk of the Nation
Date: October 27, 2006
Link: http://www.npr.org/templates/story/story.php?storyId=6393573
Summary: Computer scientist Avi Rubin talks about the plusses and minuses of electronic voting. Critics say that with just weeks to go before the election, some serious flaws in electronic voting systems have yet to be resolved.

Who: David Dill (Stanford), ACCURATE PI
What: Interview, Amy Goodman on Democracy Now!
Date: May 31, 2006
Link: http://www.democracynow.org/2006/5/31/electronic_voting_machine_study_exposes_most
Summary: David Dill discusses security flaws revealed in voting machines in Utah.